About Me
When I was 10, my Mom and Dad gave me a Sony Tape Cassette recorder. I was completely captivated by recording anything and everything, and I was amazed at how you could save the sounds to tape, organize the tapes, and later play them back at any time (provided I had batteries). It kicked off a life long fascination with how sound can be manipulated, stored, and recalled.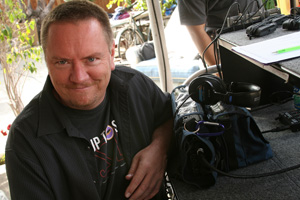 In high school I owned my own Mobile DJ business, and I've worked at several very small recording studios. When I went to college I studied Architecture, which took me away from the sound field for a short time. After college I started working for AT&T as a communications technician. The position at AT&T was highly technical, in which it taught me a tremendous amount about frequencies, hertz and data rates used in transporting digital voice across vast distances. Growing up in LA, I always wanted to pursue a career in film, but just never followed up. In 2000 I volunteered, working as a production assistant on the set of a 16mm film school project. During the filming, the original boom op had to leave early that day, and I was asked if I'd pick up the boom and hold it on the set. This was the catalyst that had me hooked, and it felt so natural.
While the tools have changed over the years, the art of recording sound still remains the same and will always be the same. With an ear for sound, doing sound mixing seamed like a shoe in for me. I decided to buy some of my own equipment and work small gigs gaining experience, and see where it leads. Since then I've been buying more equipment, and working as many production sound jobs as I can. Within a year after that, I completed my second feature film as the lead sound mixer, and I continue to build my reference list as well as IMDb credits now.
Production Assistant, Sound Design, Editing, Post Production Sound Design (Dolby Digital 5.1), and DVD authoring/creating are just a few of the many hats that I have worn. I am also proficient at motion graphics, programming, artwork, design, and technical task. I pride myself in cutting edge technologies. I'm fluent in Mac, Windows, and Linux and I know my way around Final Cut Studio (Apple Certified), Photoshop, Flash, and After Effects. My organizational abilities make me a really great editor, as well as a forward thinking engineer and designer.
I've taught classes on sound mixing and video editing at Fullerton College, Saddleback College, and Capistrano Unified School District.
I use these skills to bring to the table my experience, professional work ethic, reliability and dedication to the task while contributing as a team player. My philosophy is that you should NEVER stop learning, and there's always room for improvements.
Filmmaking is my passion. The business of Hollywood is brutal, the hours are long, and the wages (if your lucky enough to get a wage) is sometimes non-existent. But to me, none of that matters. When I'm on the set there is no place that I'd rather be. The few lucky people that I'm on the set with, are all there for a reason, and together we can make "magic".

Recent projects I've worked on:
A Word on Westerns - TV Series
Just Food 4 Dogs - Commercial
WILSDM - Short
Turducken - Short
Quincy - Netflix Documentary
Citizens of Denmark - Short
Following Raul - Short
Passage 379 - Short
Ryan's Rhapsody - Short
Spring Cleaning - Short
Crossing the line - Short
Scorpion - Short
Remant - Feature Film
Verdene and Gleneda - TV Series
Firehouse Kitchen - Pilot Shot
My Life as a Video Game - WebTV
OC Dodge - Commercial
Grand Marnier - Commerical
While Expecting Cassius - Short
Term of Art - Commerical
Tax Monkey - Commerical
RedBull Curates:LA - Redbull Channel
Harry Potter KINEXT - Commerical
Mom Life - WebTV Show
Maxim Comic-Con Party - FX Channel
DisneyLand, CarsLand - Disney
MomLife - WebTV Show
W.Expecting Cassius - Short Film
Go Puplic - Public School Short
Tax Monkey - Commercial
RedBull LA - Documentary
TrueGreen - Commercial
Sony DV - Sony Commercial
Set Free - Short
Funny On The Fly - Southwest Air
Lifes An Itch - Feature Film
Moving Takahashi - Short Film
PopSugar - WebTV Show
Walmart Photo - Commercial
Lindex - Intn. Commercial
Age 13 - Independent Short
Amgen - Corporate Video
Family Engagement - Independent
Terms of Service - Independent
LA Boxing - Commercial
Adele Sound Check - Music Video
Dare Me Bikini - Reality TV
MedicareMan.com - Commercial
Suicide Prevention - PSA
Absentia - Fall Back Productions
Godaddy.com - Commercial
Doritos - Commercial
Victroia's Secrete - EPK
Aristotle - EPK
Monster Butler - Pilot
Erostratus - Independent
BountyFull - Independent - 168
Dermorganic EPK- Independent
Chrissy Rock EPK - Independent
Doritos Commercial - Independent
Funny of Die - Skit - Independent
Tom Papa - EPK - Wolf Bros.
Slice of Water - Independent
Pull - Wolf Bros.
HouseCall - Reality TV - Independent
Living English - David Braun
Telemafia - Independent
Faithless - Independent
Sky High - Independent
Group - Reality TV Show - Independent
Ryan and Janelle - Independent
Mrs. Calistoga - Independent
The Ambassadors - Reality TV show(PBS)
HeroMan - David Filmore
LA Wine Festival - FullScope Media
Home Wrecker - Independent
The Eight Percent - Independent
As Advertised - Independent
Going to Pieces - Independent
The Cook - Independent
Quaker Oats - Hangman Films
CareerBuilder.com - Hangman Films
Black Dynamite - ARS Nova PGM
Anna Nicole - Ashley Lewis
A Simple Gesture - Independent
A Better Tomorrow - Independent
What People - AFI Short
Lisette - Ravensong
Just Desserts - Footprint Prod.
Runaway Stars - Filmaka
Heart of Now - Sambi Studios
Paradiso Girls - Interscope Records
The Butcher's Daughter - AFI short
The Mechanics - Independent
Rochez and Co - Independent
Rattle Basket - MayContainNuts
Special dEaD - T-street


Sound Articles by me:
Sound Mixing 101
Avoid 11th hour nightmares - 12 compelling reasons why you should pay for a crew.
What I learned/Reality TV-Coffey Files Magzine

Fellow Sound Mixers:
Phillip W. Palmer
Ty Ford
Mike Westgate Sound
sync.sound.cinema
Thomas Brandau and David Waelder
Robert Sharman
Whitney Ince
Marc Wielage


Great Articles about sound:
From analog to digital
Location Sound: The Basics and Beyond
Location Audio for any budget
Ten Commandments of Sound pt.1
Ten Commandments of Sound pt.2
An Open Letter from your Sound Department
Set Etiquette part I
Set Etiquette part II


Blogs and News about the Biz:
JW Sound
Totally Unauthorized
Hollywood Juicer
Dollygrip
Anonymous Assistant
The Hills are Burning
The Live Feed
Variety Mag


My favorite Stores:
Audio Department - Burbank
Trew Audio - LA
Location Sound Corp- Burbank
Film Tools - Burbank
Gotham Sound - NY


I'm available any time 24/7 email (I live on email) or text/phone (323)205.6304.
I'm also available for lectures or consulting. Contact me for details.
pro4sound[at]gmail.com