Sound equipment list:
Sennheiser 416 production shotgun microphone
Sennheiser MKH50 production microphone (3)
Sennheiser MKH60 production microphone
Sennheiser e835 - Dynamic Vocal Microphone (8)
Rycote Zeppelin Cover (2)
Rycote Suspension System (2)
Rycote Wind Jammer (2)
CineLA Suspension System (3)
KTek shockmount
Rode WS2 Wind Jammer
KTek boom - 16ft (side mounts, internal cable)
KTek boom - 12ft (side mounts, internal cable)
KTek boom - 9ft (side mounts, internal cable)
KTek boom - 5ft (side mounts, internal cable)
Lectrosonics HM400 (5)
Lectrosonics SMV-L wireless microphone system (9)
Lectrosonics Venue 1U system - 6 modual (2)
Lectrosonics SRc-A1 Wireless Receiver (3)
PSC 'batwing' Antenna
Lectrosonics SNA600 Antenna (2)
Sanken COS-11 lav microphone (7)
DPA 6060 lav microphone (3)
DPA 4061 lav microphone (3)
DPA 4080-BM lav microphone (5)
Tram lav microphone
Sennheiser MKe Omni lav microphone
Denecke PS-1A - Tpower (2)
XLR Flex Microphone cable - 100ft (5)
XLR Flex Microphone cable - 50ft (3)
XLR Flex Microphone cable - 25ft (3)
XLR Flex Microphone cable - 15ft (2)
XLR Flex Microphone cable - 1ft (2)

Sound Devices 888 16 ch-mixer/recorder
Yamaha 01v96i 32 ch-mixer /w Dante Plugin Card (2)
Mixer/Snake D-Sub cable for XLR camera hookups.
PSC Snake cable for camera XLR - 30ft
PSC Snake extension system - 75ft
Sound Devices PIX270i solid state multitrack recorder w/ Time Code (2)
Boomcorder multichannel Software w/ Time Code
Apple MiniMac rackmount
Tascan DR40 Field Recorder

Denecke Time Code Smart Slate TS-3EL
Denecke Time Code Smart Slate TS-TCB
TimeCode Buddie :wave
TimeCode Buddie :UltraSync (3)
Ruige TLS701HD-2 7inch HD Monitors
ikan VX7 7inch HD Monitor w/HDMI
BNC HD-SDI Video cable - 50ft (5)
BNC HD-SDI Video cable - 100ft (2)
HDMI Video cable - 50ft (2)
Sewell X2 Dual HDMI spilter
Marshal OR-XDI Portable Battery-Powered 3G-SDI to HDMI Cross Converter

Magliner/Backstage Custom JR Sound Cart
Custom Made Upright Cart, SKB Case w/ wheels
Telescope Directors Chair
Matthews 40 inch Black C-Stand (2)
Matthews Sandbag (2)
Sound Blanket - 9 lb w/ eyelets (3)
Boom Caddie (2)
Krane AMG 500 Convertible Tilt Cart
Krane AMG 750 Multi-Mode Folding Cart

Sony MDR-7506 Headphones (5)
Sony mini Headphones (6)
Midland AVP-H3 FBI-Style Ear Buds (2)
Lectrosonics R1a IFB wireless receiver (8)
Lectrosonics SMV wireless transmitter (2)
Lectrosonics IFBT4 UHF transmitter (2)
JBL EON612 Powered Monitors w/stands (2)

IDX NP Smart Charge System JL2-Plus
IDX.NP9X Lithium ION Battery x2 Dtap (2)
PowerEx MH-C9000 WizardOne Charger-Analyzer
PowerEx AA 2700mAh NiMH Rechargeable Batteries (32)
iPower 9v QuickCharger System (3)
iPower 520 Professional 9 volt Lithium-Polymer rechargeable batteries (25)
PSC Star cart power 12VDC power system
Stinger - 50 ft (3)
Stinger - 25 ft

2017 Ford T150 Transit Cargo Van
PortaBrace Runtime Bags (2)
K-Tek Stingray Small X Purple Audio Bag X-Series
K-tek Stingray Harness Small (3rd generation)
Pelican 1450 case
Pelican 1650 case
Pelican 1520 case (2)

10x10 Quickshade Pop up Tarp
Babypin Set Fan
General Tool Box w/ accessories
Viper Tool Box w/ custom wheels
4 Foot Step Ladder for Boom Op

What seems like endless millions of adaptors, plugs, and cords.

download printable version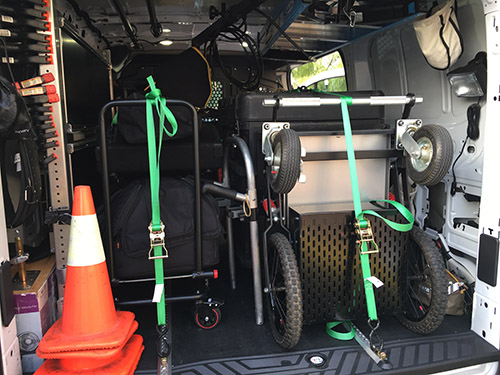 Recent projects I've worked on:
A Word on Westerns - TV Series
Just Food 4 Dogs - Commercial
WILSDM - Short
Turducken - Short
Quincy - Netflix Documentary
Citizens of Denmark - Short
Following Raul - Short
Passage 379 - Short
Ryan's Rhapsody - Short
Spring Cleaning - Short
Crossing the line - Short
Scorpion - Short
Remant - Feature Film
Verdene and Gleneda - TV Series
Firehouse Kitchen - Pilot Shot
My Life as a Video Game - WebTV
OC Dodge - Commercial
Grand Marnier - Commerical
While Expecting Cassius - Short
Term of Art - Commerical
Tax Monkey - Commerical
RedBull Curates:LA - Redbull Channel
Harry Potter KINEXT - Commerical
Mom Life - WebTV Show
Maxim Comic-Con Party - FX Channel
DisneyLand, CarsLand - Disney
MomLife - WebTV Show
W.Expecting Cassius - Short Film
Go Puplic - Public School Short
Tax Monkey - Commercial
RedBull LA - Documentary
TrueGreen - Commercial
Sony DV - Sony Commercial
Set Free - Short
Funny On The Fly - Southwest Air
Lifes An Itch - Feature Film
Moving Takahashi - Short Film
PopSugar - WebTV Show
Walmart Photo - Commercial
Lindex - Intn. Commercial
Age 13 - Independent Short
Amgen - Corporate Video
Family Engagement - Independent
Terms of Service - Independent
LA Boxing - Commercial
Adele Sound Check - Music Video
Dare Me Bikini - Reality TV
MedicareMan.com - Commercial
Suicide Prevention - PSA
Absentia - Fall Back Productions
Godaddy.com - Commercial
Doritos - Commercial
Victroia's Secrete - EPK
Aristotle - EPK
Monster Butler - Pilot
Erostratus - Independent
BountyFull - Independent - 168
Dermorganic EPK- Independent
Chrissy Rock EPK - Independent
Doritos Commercial - Independent
Funny of Die - Skit - Independent
Tom Papa - EPK - Wolf Bros.
Slice of Water - Independent
Pull - Wolf Bros.
HouseCall - Reality TV - Independent
Living English - David Braun
Telemafia - Independent
Faithless - Independent
Sky High - Independent
Group - Reality TV Show - Independent
Ryan and Janelle - Independent
Mrs. Calistoga - Independent
The Ambassadors - Reality TV show(PBS)
HeroMan - David Filmore
LA Wine Festival - FullScope Media
Home Wrecker - Independent
The Eight Percent - Independent
As Advertised - Independent
Going to Pieces - Independent
The Cook - Independent
Quaker Oats - Hangman Films
CareerBuilder.com - Hangman Films
Black Dynamite - ARS Nova PGM
Anna Nicole - Ashley Lewis
A Simple Gesture - Independent
A Better Tomorrow - Independent
What People - AFI Short
Lisette - Ravensong
Just Desserts - Footprint Prod.
Runaway Stars - Filmaka
Heart of Now - Sambi Studios
Paradiso Girls - Interscope Records
The Butcher's Daughter - AFI short
The Mechanics - Independent
Rochez and Co - Independent
Rattle Basket - MayContainNuts
Special dEaD - T-street


Sound Articles by me:
Sound Mixing 101
Avoid 11th hour nightmares - 12 compelling reasons why you should pay for a crew.
What I learned/Reality TV-Coffey Files Magzine

Fellow Sound Mixers:
Phillip W. Palmer
Ty Ford
Mike Westgate Sound
sync.sound.cinema
Thomas Brandau and David Waelder
Robert Sharman
Whitney Ince
Marc Wielage


Great Articles about sound:
From analog to digital
Location Sound: The Basics and Beyond
Location Audio for any budget
Ten Commandments of Sound pt.1
Ten Commandments of Sound pt.2
An Open Letter from your Sound Department
Set Etiquette part I
Set Etiquette part II


Blogs and News about the Biz:
JW Sound
Totally Unauthorized
Hollywood Juicer
Dollygrip
Anonymous Assistant
The Hills are Burning
The Live Feed
Variety Mag


My favorite Stores:
Audio Department - Burbank
Trew Audio - LA
Location Sound Corp- Burbank
Film Tools - Burbank
Gotham Sound - NY


I'm available any time 24/7 email (I live on email) or text/phone (323)205.6304.
I'm also available for lectures or consulting. Contact me for details.
pro4sound[at]gmail.com