Reference list
Available on Request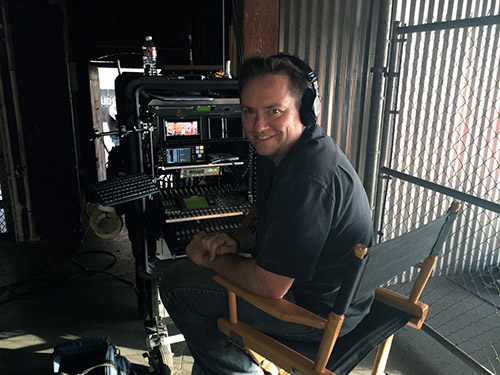 Sound Samples
(Jo Champa Production)
Jo Champa in Hollywood - TVShow - Ext Link


(Eric Demeusy):
Scorpion - Short - Ext Link


(Wolf Bros production):
1 percent for the Planet - Commercial - Ext Link


(Wolf Bros production):
Vlasic Bad Pickle - Commercial - Ext Link


(J. Xavier Velasco production):
While Expecting Cassius - Short - Ext Link


(J Bell Productions):
Infiniti Q50 - Commercial - Ext Link


(Josh Soskin production):
Moving Takahashi - Short - Ext Link


(Honnie Korngold production):
Ultimate Firehouse Chef - Pilot - Ext Link


(DCCC Productions):
Martin Sheen:Stand Up for Medicare - Ext Link


(Bountyfull-168 Film project production):
Bountyfull-Sound_Clip_1 - RAW Capture - Quicktime / Flash


(Wolf Bros production):
PULL-Sound_Clip_1 - Quicktime / Flash
Tom_Papa-Sound_Clip_1 - Quicktime / Flash



Recent projects I've worked on:
A Word on Westerns - TV Series
Just Food 4 Dogs - Commercial
WILSDM - Short
Turducken - Short
Quincy - Netflix Documentary
Citizens of Denmark - Short
Following Raul - Short
Passage 379 - Short
Ryan's Rhapsody - Short
Spring Cleaning - Short
Crossing the line - Short
Scorpion - Short
Remant - Feature Film
Verdene and Gleneda - TV Series
Firehouse Kitchen - Pilot Shot
My Life as a Video Game - WebTV
OC Dodge - Commercial
Grand Marnier - Commerical
While Expecting Cassius - Short
Term of Art - Commerical
Tax Monkey - Commerical
RedBull Curates:LA - Redbull Channel
Harry Potter KINEXT - Commerical
Mom Life - WebTV Show
Maxim Comic-Con Party - FX Channel
DisneyLand, CarsLand - Disney
MomLife - WebTV Show
W.Expecting Cassius - Short Film
Go Puplic - Public School Short
Tax Monkey - Commercial
RedBull LA - Documentary
TrueGreen - Commercial
Sony DV - Sony Commercial
Set Free - Short
Funny On The Fly - Southwest Air
Lifes An Itch - Feature Film
Moving Takahashi - Short Film
PopSugar - WebTV Show
Walmart Photo - Commercial
Lindex - Intn. Commercial
Age 13 - Independent Short
Amgen - Corporate Video
Family Engagement - Independent
Terms of Service - Independent
LA Boxing - Commercial
Adele Sound Check - Music Video
Dare Me Bikini - Reality TV
MedicareMan.com - Commercial
Suicide Prevention - PSA
Absentia - Fall Back Productions
Godaddy.com - Commercial
Doritos - Commercial
Victroia's Secrete - EPK
Aristotle - EPK
Monster Butler - Pilot
Erostratus - Independent
BountyFull - Independent - 168
Dermorganic EPK- Independent
Chrissy Rock EPK - Independent
Doritos Commercial - Independent
Funny of Die - Skit - Independent
Tom Papa - EPK - Wolf Bros.
Slice of Water - Independent
Pull - Wolf Bros.
HouseCall - Reality TV - Independent
Living English - David Braun
Telemafia - Independent
Faithless - Independent
Sky High - Independent
Group - Reality TV Show - Independent
Ryan and Janelle - Independent
Mrs. Calistoga - Independent
The Ambassadors - Reality TV show(PBS)
HeroMan - David Filmore
LA Wine Festival - FullScope Media
Home Wrecker - Independent
The Eight Percent - Independent
As Advertised - Independent
Going to Pieces - Independent
The Cook - Independent
Quaker Oats - Hangman Films
CareerBuilder.com - Hangman Films
Black Dynamite - ARS Nova PGM
Anna Nicole - Ashley Lewis
A Simple Gesture - Independent
A Better Tomorrow - Independent
What People - AFI Short
Lisette - Ravensong
Just Desserts - Footprint Prod.
Runaway Stars - Filmaka
Heart of Now - Sambi Studios
Paradiso Girls - Interscope Records
The Butcher's Daughter - AFI short
The Mechanics - Independent
Rochez and Co - Independent
Rattle Basket - MayContainNuts
Special dEaD - T-street


Sound Articles by me:
Sound Mixing 101
Avoid 11th hour nightmares - 12 compelling reasons why you should pay for a crew.
What I learned/Reality TV-Coffey Files Magzine

Fellow Sound Mixers:
Phillip W. Palmer
Ty Ford
Mike Westgate Sound
sync.sound.cinema
Thomas Brandau and David Waelder
Robert Sharman
Whitney Ince
Marc Wielage


Great Articles about sound:
From analog to digital
Location Sound: The Basics and Beyond
Location Audio for any budget
Ten Commandments of Sound pt.1
Ten Commandments of Sound pt.2
An Open Letter from your Sound Department
Set Etiquette part I
Set Etiquette part II


Blogs and News about the Biz:
JW Sound
Totally Unauthorized
Hollywood Juicer
Dollygrip
Anonymous Assistant
The Hills are Burning
The Live Feed
Variety Mag


My favorite Stores:
Audio Department - Burbank
Trew Audio - LA
Location Sound Corp- Burbank
Film Tools - Burbank
Gotham Sound - NY


I'm available any time 24/7 email (I live on email) or text/phone (323)205.6304.
I'm also available for lectures or consulting. Contact me for details.
pro4sound[at]gmail.com