Is this thing on?
Greetings, I'm Richard Ragon, a production sound mixer (sometimes referred to as a location sound recordist) working in the Los Angeles area.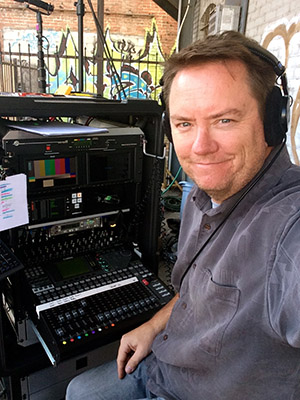 I've always been fascinated by sound. I'm fascinated by how sound can be such a huge part of our lives, yet we hardly ever think about how we use it every single day. Sound is a powerful tool that can be used to tell a story, or it can be simply used to set a mood. Sound is so powerful that there is not a grocery store, retail store, or shopping center in all of America that doesn't use sound to affect your mood and alter your shopping habits while in that store.
People use sound to pass the time while in their cars, or cheer them up if they've had a hard day. It knows no age limit, and crosses all boundaries. Even the absence of sound is an event in itself.
The benefits of having a great sound track in a film are obvious, but few people, even in the business, know how that technically gets there. Good sound in a film will go hardly noticed, but bad sound in a film will be noticed by all. Bad sound is the mark of an amateur, and it's what separates your film from the professionals. Audiences will walk out of a film with bad sound and not be quite sure how to put their finger on what was wrong with the film.
Music score, sound effects (SFX), and dialog lines make up a large majority of the sound in a film. All these sounds are collected together, and mixed near the end of the process of creating that film. A production Sound Mixer focuses mainly on getting the dialog recording of the actors, but they can may collect room tones, sound effects, or other additional sounds in an effort to help the editor and post sound mixer put it all together.
In order to get good dialog recording in a film, you have to start from the beginning in the planning stages of the project. It's important that you take dialog recording into consideration when your scouting locations for filming. Not only is it preferred to collect your actors lines while on the set, but in the long run it will save you time, energy, and most importantly money. Mess this part up, and there's no going back. There's no magic bullet to fix it later, and software tools can only do so much to try to mask the unwanted parts of a bad recording.
To collect the correct 'sounds' while on the set, a location sound mixer has a large arsenal of tools to do this job. In fact, it's such a huge job, small to large films require a sound crew to help him in this task. The sound department consist of two people. The sound mixer himself, and a boom operator. Larger productions might even have a third person as a sound utility person, who is basically, someone that assist moving around lots of recording equipment on a set.
This site serves to showcase some of my most recent work as a location sound recorder, my referrals, my equipment, my work history, and even some of my notes and rants on the subjects of recording sound and the business of Hollywood. Over the last few years, I've had the pleasure of working for some really great directors, producers, and fellow crew members. I consider contacts that I make while working in this business to be valuable friends that I've had the great pleasure to work with on some really great projects. While these friends often come from different backgrounds, we share a common interest in the pursuit, love, and practice of filmmaking.
If you dig deeper into this site, You'll find that I've provided articles written by me, my fellow sound mixers in the business, or articles that I feel explain the complicated techno jargon and help you cut to the chase when thinking about sound for your next project.

Want to find out more about me?

Recent projects I've worked on:
A Word on Westerns - TV Series
Just Food 4 Dogs - Commercial
WILSDM - Short
Turducken - Short
Quincy - Netflix Documentary
Citizens of Denmark - Short
Following Raul - Short
Passage 379 - Short
Ryan's Rhapsody - Short
Spring Cleaning - Short
Crossing the line - Short
Scorpion - Short
Remant - Feature Film
Verdene and Gleneda - TV Series
Firehouse Kitchen - Pilot Shot
My Life as a Video Game - WebTV
OC Dodge - Commercial
Grand Marnier - Commerical
While Expecting Cassius - Short
Term of Art - Commerical
Tax Monkey - Commerical
RedBull Curates:LA - Redbull Channel
Harry Potter KINEXT - Commerical
Mom Life - WebTV Show
Maxim Comic-Con Party - FX Channel
DisneyLand, CarsLand - Disney
MomLife - WebTV Show
W.Expecting Cassius - Short Film
Go Puplic - Public School Short
Tax Monkey - Commercial
RedBull LA - Documentary
TrueGreen - Commercial
Sony DV - Sony Commercial
Set Free - Short
Funny On The Fly - Southwest Air
Lifes An Itch - Feature Film
Moving Takahashi - Short Film
PopSugar - WebTV Show
Walmart Photo - Commercial
Lindex - Intn. Commercial
Age 13 - Independent Short
Amgen - Corporate Video
Family Engagement - Independent
Terms of Service - Independent
LA Boxing - Commercial
Adele Sound Check - Music Video
Dare Me Bikini - Reality TV
MedicareMan.com - Commercial
Suicide Prevention - PSA
Absentia - Fall Back Productions
Godaddy.com - Commercial
Doritos - Commercial
Victroia's Secrete - EPK
Aristotle - EPK
Monster Butler - Pilot
Erostratus - Independent
BountyFull - Independent - 168
Dermorganic EPK- Independent
Chrissy Rock EPK - Independent
Doritos Commercial - Independent
Funny of Die - Skit - Independent
Tom Papa - EPK - Wolf Bros.
Slice of Water - Independent
Pull - Wolf Bros.
HouseCall - Reality TV - Independent
Living English - David Braun
Telemafia - Independent
Faithless - Independent
Sky High - Independent
Group - Reality TV Show - Independent
Ryan and Janelle - Independent
Mrs. Calistoga - Independent
The Ambassadors - Reality TV show(PBS)
HeroMan - David Filmore
LA Wine Festival - FullScope Media
Home Wrecker - Independent
The Eight Percent - Independent
As Advertised - Independent
Going to Pieces - Independent
The Cook - Independent
Quaker Oats - Hangman Films
CareerBuilder.com - Hangman Films
Black Dynamite - ARS Nova PGM
Anna Nicole - Ashley Lewis
A Simple Gesture - Independent
A Better Tomorrow - Independent
What People - AFI Short
Lisette - Ravensong
Just Desserts - Footprint Prod.
Runaway Stars - Filmaka
Heart of Now - Sambi Studios
Paradiso Girls - Interscope Records
The Butcher's Daughter - AFI short
The Mechanics - Independent
Rochez and Co - Independent
Rattle Basket - MayContainNuts
Special dEaD - T-street


Sound Articles by me:
Sound Mixing 101
Avoid 11th hour nightmares - 12 compelling reasons why you should pay for a crew.
What I learned/Reality TV-Coffey Files Magzine

Fellow Sound Mixers:
Phillip W. Palmer
Ty Ford
Mike Westgate Sound
sync.sound.cinema
Thomas Brandau and David Waelder
Robert Sharman
Whitney Ince
Marc Wielage


Great Articles about sound:
From analog to digital
Location Sound: The Basics and Beyond
Location Audio for any budget
Ten Commandments of Sound pt.1
Ten Commandments of Sound pt.2
An Open Letter from your Sound Department
Set Etiquette part I
Set Etiquette part II


Blogs and News about the Biz:
JW Sound
Totally Unauthorized
Hollywood Juicer
Dollygrip
Anonymous Assistant
The Hills are Burning
The Live Feed
Variety Mag


My favorite Stores:
Audio Department - Burbank
Trew Audio - LA
Location Sound Corp- Burbank
Film Tools - Burbank
Gotham Sound - NY


I'm available any time 24/7 email (I live on email) or text/phone (323)205.6304.
I'm also available for lectures or consulting. Contact me for details.
pro4sound[at]gmail.com